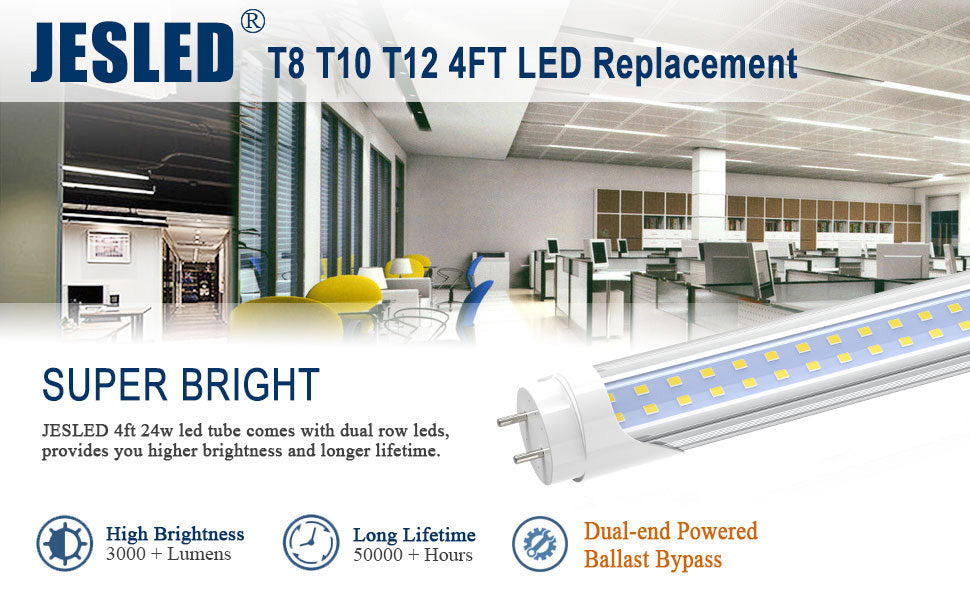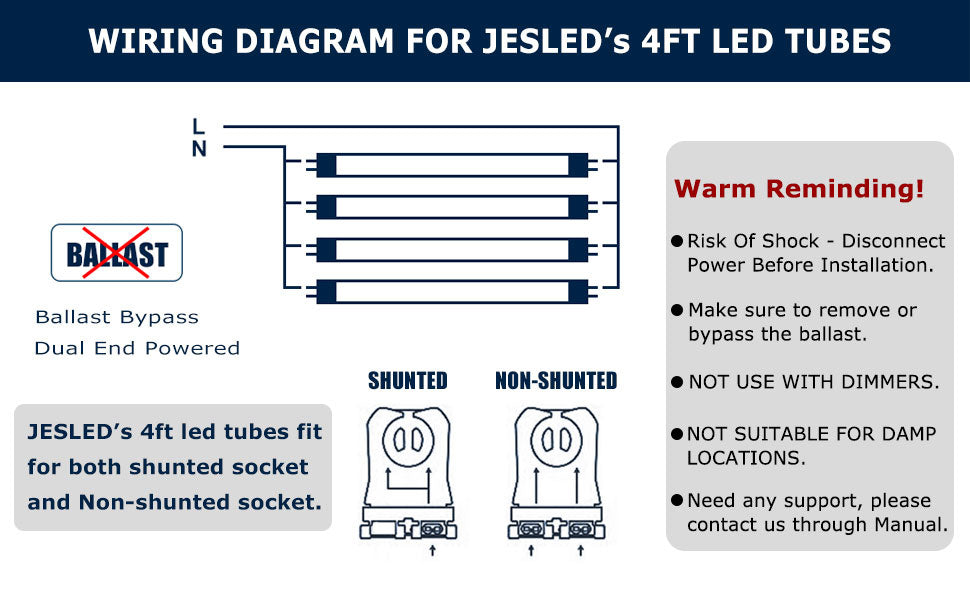 ENERGY EFFICIENT:

Opt in for energy-efficient lighting solution with very low maintenance cost! Our LED lights have a high brightness output while keeping very low heat output. These tubes are composed of state-of-the-art, shatterproof materials and engineered to last in a wide range of environments

SIMPLE BALLAST BYPASS

These clear LED tube lights are compatible with most existing fixtures. Fluorescent replacement is simple and LED retrofit can be done easily with a ballast bypass (direct wire) installation.

APPLICATIONS:

Workspace and warehouse lighting

Grocery stores and retailers

Kitchen lighting, office, ospitals lights

School buildings, classrooms and hallways

Supermarket, Garage, Shops, etc.
4ft led is the future
These work great and are simple to rewire after you remove the ballast. Allum heat sink on back side keeps them cool to the touch and adds strength. I bought 12 and have installed 8 so far and I like them.
Easy Install
Install took less than an hour to remove ballast from two fixtures. I am not an electrician so I went on YouTube and just followed the directions on how to do it.
Love these bulbs!
I love these bulbs, I had purchased 25 of the 8 foot bulbs and they were great, so I ordered the 4 foot bulbs. They are bright, and also easy to install.I would purchase these bulbs again.
It's bright again.
It was easy to convert, and provided exceptional brightness.
Great lights. Know your light fixture.
Wow, these are bright! I currently have a hodge podge of lighting in my shop/ garage. I replaced my 4 bulb florescent with these. Removing the ballast wasn't to bad and routing the wireswas easy. I did have to adjust the plug parts so that the lights pointed downwards. That took some slight modification. That was due to my light fixture and not the product. These 4 outshined my other 2 lights with ease. Will buy more.