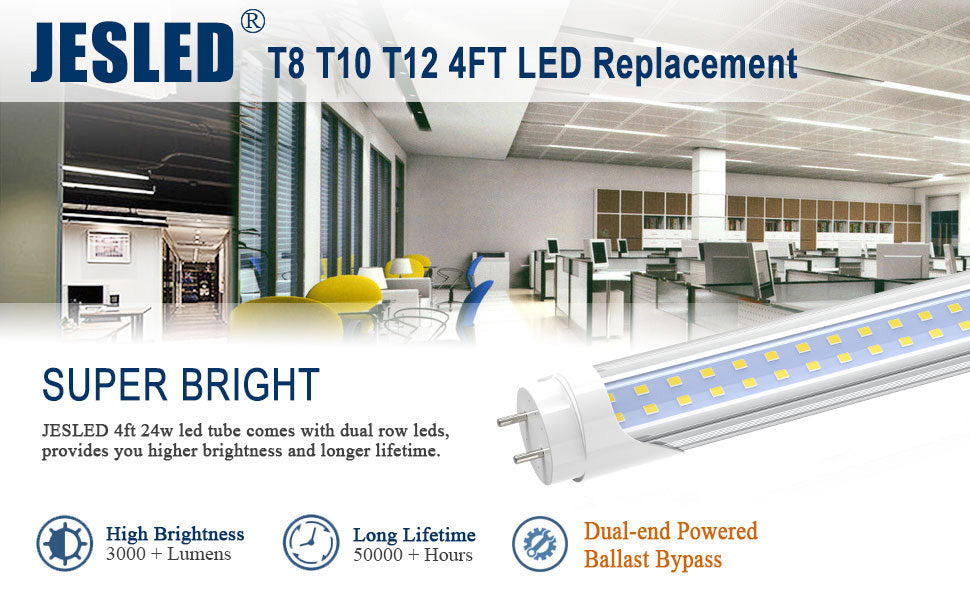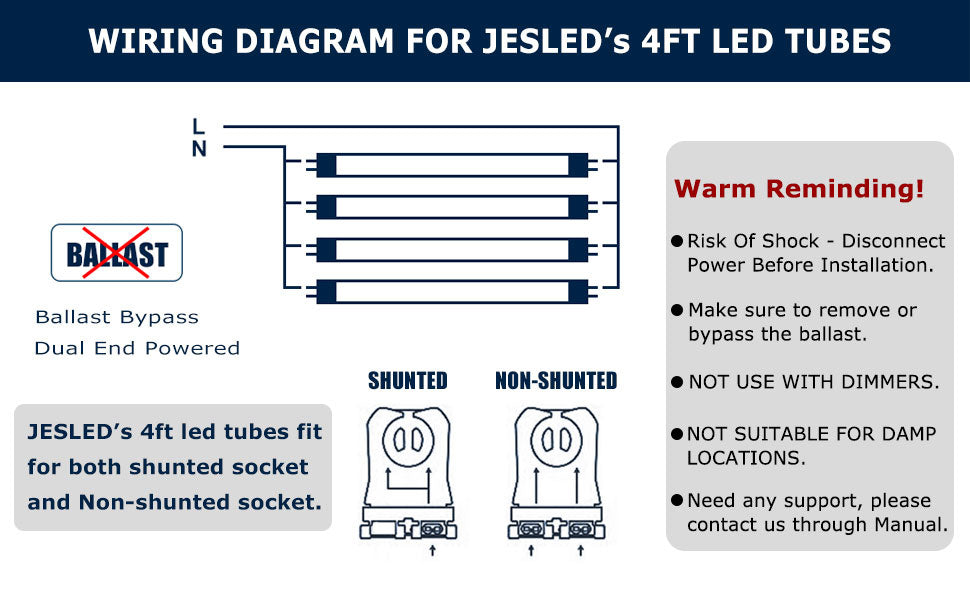 ENERGY EFFICIENT:

Opt in for energy-efficient lighting solution with very low maintenance cost! Our LED lights have a high brightness output while keeping very low heat output. These tubes are composed of state-of-the-art, shatterproof materials and engineered to last in a wide range of environments

SIMPLE BALLAST BYPASS

These clear LED tube lights are compatible with most existing fixtures. Fluorescent replacement is simple and LED retrofit can be done easily with a ballast bypass (direct wire) installation.

APPLICATIONS:

Workspace and warehouse lighting

Grocery stores and retailers

Kitchen lighting, office, ospitals lights

School buildings, classrooms and hallways

Supermarket, Garage, Shops, etc.
4ft led is the future
These work great and are simple to rewire after you remove the ballast. Allum heat sink on back side keeps them cool to the touch and adds strength. I bought 12 and have installed 8 so far and I like them.
Very bright as advertised
I purchased 25 bulbs so there were a lot of ballasts to bypass. The first ballast bypass was slow, by the time I got to the 3rd or 4th one I was getting pretty good at it. I had a number of cheap Walmart florescent dual bulb lights which were difficult to bypass the ballast due to the ballast being almost built into the fixture. Unless your are really determined I would advise not fighting the built in electronic ballasts in the cheap fixtures. All 25 lights worked. The led lights turn on instantly with no buzzing ballasts - nice. The light output appears to be double that of the original florescent bulbs - very nice. How long they will last is the real question since there is no going back now that the ballasts are cut out. In summary, I recommend switching to led bulbs. Shipping was fast and the JSLED bulbs were well packaged.