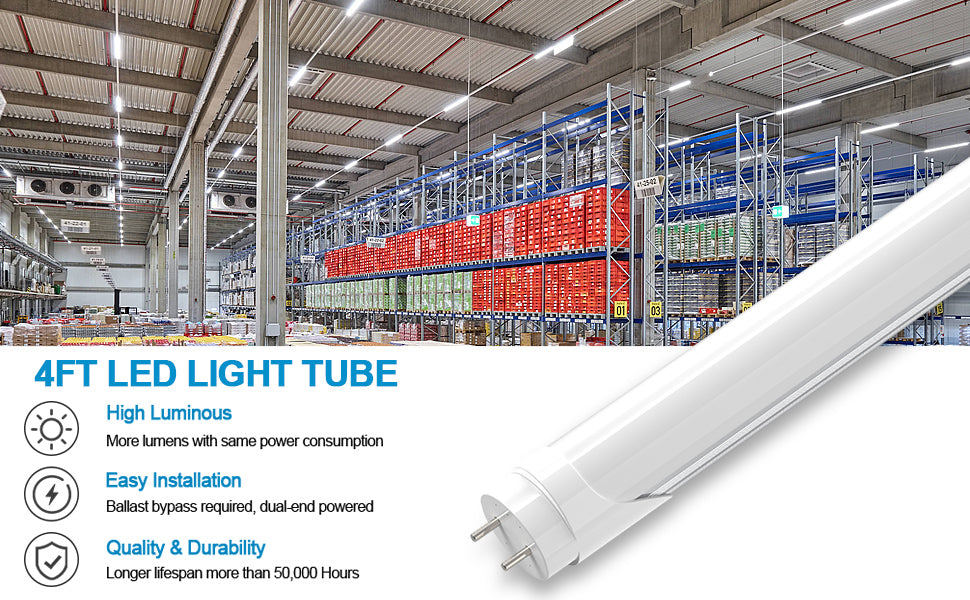 JESLED LIGHTING 4 Foot LED Tube Lights offer high standard in commercial lighting. These LED tube lights are compatible with T8, T10 and T12 fixtures, easy to retrofit and direct wire the tubes with a ballast bypass installation. It provides you much brighter and healthier lighting than conventional fluorescent light.
Specs:

Length: 48'' (4ft)

Power: 18W

CCT: 6000K Cool White

Beam Angle: 120 Degrees

Luminous Flux: 100-110lm per watt

Power Factor: 0.95

Color Rendering Index(CRI): 85

Input Voltage: 85~265V/ac
High Brightness
Highly efficient 100~110 lumens output per watt,high brightness with low power consumption and low thermal output.
Fluorescent Replacement
This LED tube light is compatible with T8, T10 and T12 fixture, it requires ballast bypass before installation.?After ballast bypassing, it's very easy to retrofit and wire the tubes.
Long lifespan
Adopt strong aluminum housing for durability and good cooling,greatly extended the service life.Under normal use,it's long lifespan up to 50000 hours.
Wide Application

Garage,workshop,basement,warehouse

Convenience store and retailers

Commercial lighting,classroom,parking lot,etc

Easy Installation

Dual-end Powered Bulbs

Must remove the ballast or starter

Instant on & No Flickering

Working Temperature:-22 ~122 °F

High Efficiency and Energy Saving

100~110 lumens output per watt

Low power consumption

Long lifespan:up to 50000 hours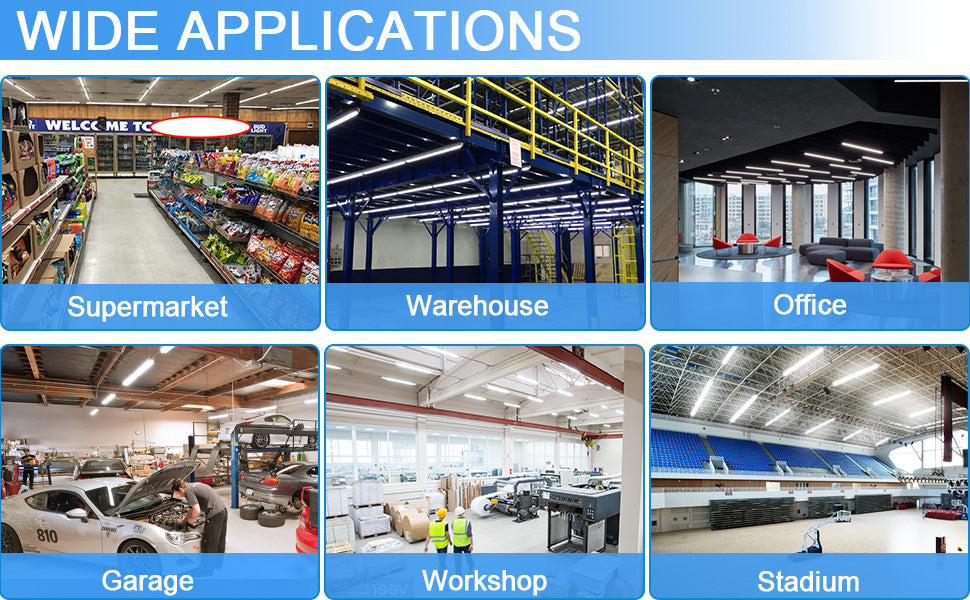 Awesome LED Bulbs
The bulbs are exactly as described. Great for converting over from old style ballast operated florescent bulbs to LED. It takes about 15 mins to remove the ballast and convert over. It was a very simple operation. These are very bright and every bulb has worked so far, although I am only half done, still got 6 more ceiling lights to change out.
Excellent LED tubes. Very nice and bright.
I not one for leaving reviews on products I purchase from amazon, but these LED replacement tubes are fantastic! I purchased 2 sets of 4 tubes two days apart from each other and the install was a breeze. It was super easy to rewire the new LED tubes. I installed 4 tubes in my garage and 2 tubes in my walk in closet. The light is nice and super bright and there are no dark spots as left in other reviews. My wife is also very pleased with the light tubes. Great seller on Amazon.
Best Led light
green light the Best ???? thank-you
Review of bulbs AND Customer service-both AWESOME
These bulbs are wonderful! We replaced fluorescent bulbs by bypassing the ballasts in our old fixture. SO EASY A CAVEMAN COULD DO IT! Watch a You Tube video -converting your fluorescent fixture is simple!
The bulbs are so nice and bright -AND no flickering-no pink or orange tinge-no buzzing-none of the crap that comes with fluorescent bulbs! Pictured is the ballast/bypass and then fluorescent bulb above our sink next to the new LED bulbs in the ceiling fixture so you can see the contrast and how much better the light quality is! So much better!! We didn't realize how terrible the fluorescent bulbs were until we put these up!
NOW-CUSTOMER SERVICE
One of the bulbs we got was damaged so we emailed the company (at 11PM on a Saturday night) using the email address on the card included with the bulbs. We got a response in less than an hour! They sent us a coupon code to use on Amazon to replace the bulb in no time flat and were very apologetic. Product defects happen...that's life...but the way a company handles it is what matters and besides being very satisfied with these bulbs overall, we were also extremely impressed with CNSUNWAY LIGHTING customer service and will buy from them again for sure!
Excellent LED replacement bulbs
The procedure to bypass the existing ballast was not complicated at all (the devil is in the details): [1] Carefully remove the ballast cover; [2] Switch off the power to the light fixture; [3] Carefully remove the florescent bulbs; [4] Cut all the wires to the ballast (leave about two inches for each wire coming from the ballast in case you ever want to reconnect the ballast) and carefully strip off 1/2 inch of insulation from each wire; [5] Connect all the yellow wire ends from the fixture to the incoming power's white wire (the neutral wire) and then add a screw cap followed by electrical tape; [6] Connect all the red and blue wire ends from the fixture ends to the incoming power's black wire (the hot wire) and then add a screw cap followed by electrical tape; [7] Carefully replace the ballast cover; [8] Install the new LED bulbs.; [9] Switch the power back on to the fixture, and the bulbs illuminate instantly without latency. The bulbs are slim and light. They are very bright with a "bluish-white" color suitable for an office, a basement, a garage, a warehouse, etc. I ordered four bulbs, but one of the bulbs was defective (it fizzled out and left an ozone odor). At no cost to me, Amazon Customer Service shipped to me a complete replacement set of four bulbs, and I did not have to return anything, so I have some replacement bulbs, should I need them. I definitely recommend this product to others looking for a bright LED bulbs to replace old or burnt-out florescent bulbs.