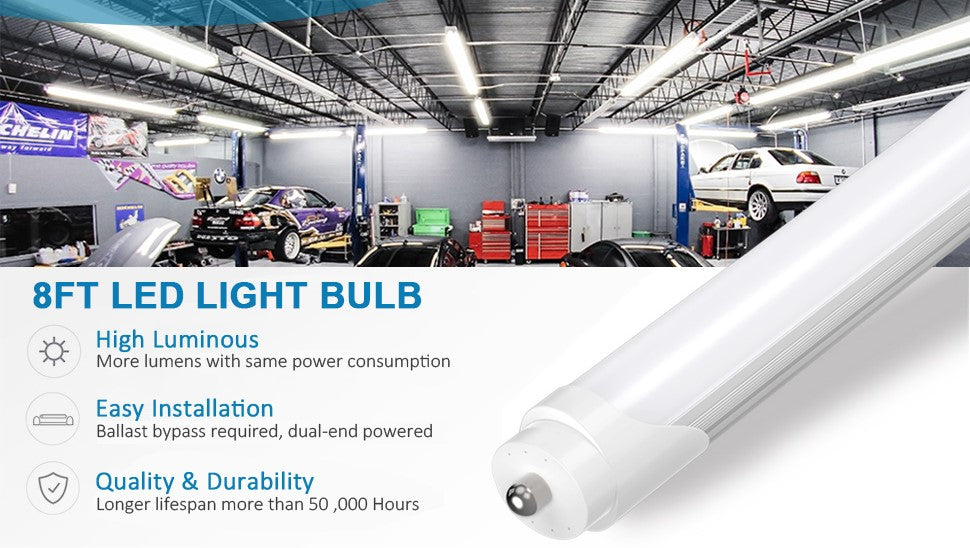 This 8 Foot LED Tube Lights offer high standard in commercial lighting. These LED tube lights are compatible with T8, T10 and T12 fixtures, easy to retrofit and direct wire the tubes with a ballast bypass installation. We adopted durable high-class aluminum for perfect heat dissipation, PC lamp cover for shatter resistant.
SPECIFICATIONS

Size: 8ft

Power: 36W

CCT: 6000K Cool White

Beam Angle: 120 Degree

Luminous Flux: 5400LM

Color Rendering Index(CRI): 85

Input Voltage: 100~305V/AC

Working Temperature: -22 ~122 °F
PRODUCT FEATURE
(1)No buzzing ballasts, no flickering, no mercury, no UV or IR Radiation
(2)Easy installation, remove or bypass the ballast/starter
(3)Highly efficient 100~110 lumens output per watt
(4)Low power consumption and low thermal output
(5)Saving 65% on your electric bill
MATERIAL
Made of high quality Aluminum & Superior PC, it's durable and has a long lifespan.
NOTICE
This item is double-ended power! This item doesn't work in any fixture containing a ballast/starter, you have to remove or bypass the ballast at first!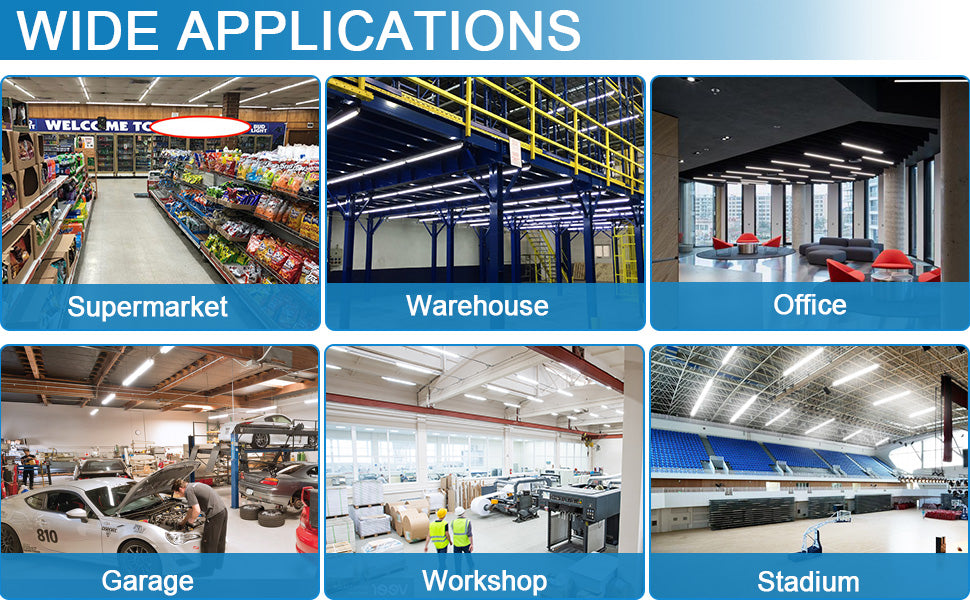 Good lights for the money.
Easy install, about 15-30 minutes a fixture to remove the ballast and instal the tombstones and new bulbs, depending on the installers experience. The milky covers keep it from being sharp to look at, but don't diminish the light output. Clear would project the light farther in high bays but the white covers are better in lower or sidewall applications, my shop. I will buy more if needed. Come well packed in a heavy duty box individual boxed inside.
Easy Install, much improved lighting
I had these lights on my wish list for some time, I finally had enough of the flickering and loud humming of the
fluorescent lights in the shop and ordered them (12 Pack).
They arrived in 2 days, well packaged. There are also instructions in the box, these lights require the bypassing or removal of the fluorescent ballast. My fixtures were wired different but I have a good grasp on wiring and was able to proceed, if you are unfamiliar or uncomfortable around electrical wiring you should defer to a certified electrician.
In about 2.5 hours I had 6 fixtures rewired and the bulbs installed. They are far brighter than the old fluorescent tubes and no more humming :)
The only "down side", there is a little sag in the 8 foot tubes, I opted to not order the support brackets and that is on me, bank one I left alone, and my second band I fished zip ties through the fixture to add some support. I'll order them for a cleaner look than zip ties.
Overall I'm very happy with this product and will be looking to order some 4' T8 style to replace the lights in the house garage.
Love these!!
So worth the money. Easy install. If you are on the fence and not sure this is your sign to do it.
Easy Conversion / Great Results
This led 12 pack 8ft tube purchase was excellent!! The product arrived undamaged and very well packed. Converted the first 6 of 16 8ft fluorescent fixtures, removed ballasts & rewired with Irwin 4 wire & 2 wire connectors. No wire nuts. All I can say is Wow... All lamps came on and function perfectly with very noticeable improvement in light level Will purchase next 12 pack in a month. Extremely pleased with this purchase & Highly Recommended....
Great quality
They work great! Good quality and price!